Press
Interview by Stephen Hobley
Interview on the french radio Trait d'Union in 1982, transcribed by François Grapard for the magazine Synthesis (n°1, 1982) – in french
Interview by Vinyl
Interview by Andy Garibaldi for Ork Alarm
Interview on Claviers Magazine (september 83)
_
Article on StylusMagazine
Article on Genjipress
Article on Visionsonic
Article on Sofroflo
Article on Actuel
_
Article on the (hypothetical) prophets on Xsilence
Article on the (hypothetical) prophets on Vivonzeureux
"Printemps de Bourges 1983 Alors que tant de festivals jettent l'éponge, le Printemps prospère et passe à 61 000 entrées. Outre Julien Clerc, Yves Duteil, Sapho, Maxime Le Forestier et Catherine Lara, on convie à la fête de grandes pointures internationales comme Miles Davis et U.2. On écoute, l'Afrique : Bebey, Touré Kunda, Lolo Sy Ny Tariny. On se lance dans des créations prestigieuses, avec le spectacle lasérisé de Bernard Szajner sur Lewis Caroll ou l'oratorio de Mikis Theodorakis. Le programme annonce « l'affiche introuvable ». En effet, au milieu d'un patchwork de reggae, jazz, humour, hard-rock, punk et chanson, Marguerite Yourcenar vient parler du gospel, Manset expose ses peintures, Gustave Parking rime avec happening et Gérard Pierron chante sa Loire vers une heure du matin. Il n'y a pas de genres mineurs, il n'y a que des émotions, sans compter les coups de cour vécus au hasard des scènes ouvertes et autres lieux noctambules façon « Soupe aux choux » " Renaud Mavré
HERALD TRIBUNE – 1981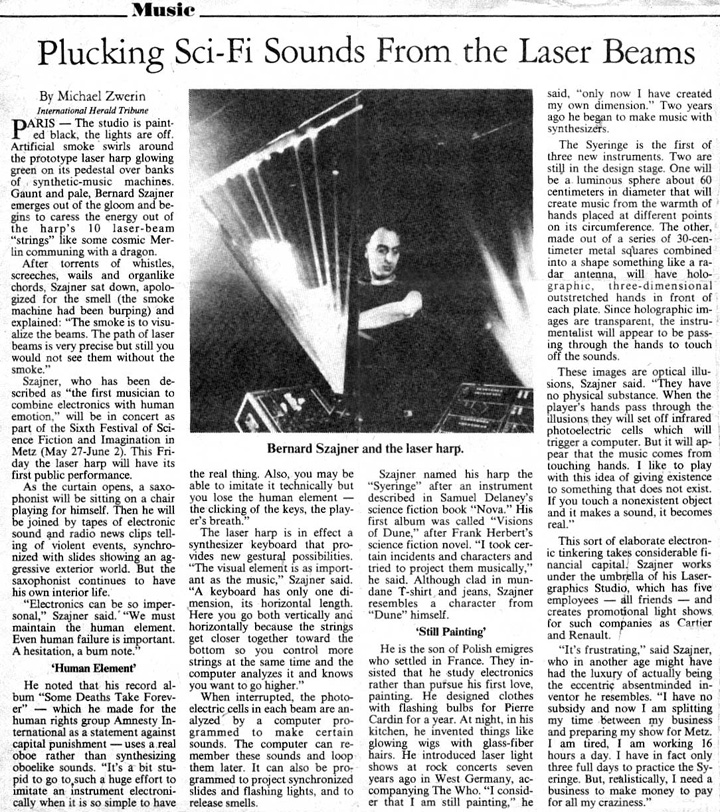 SUNDAY TIME – MAY 1st 1983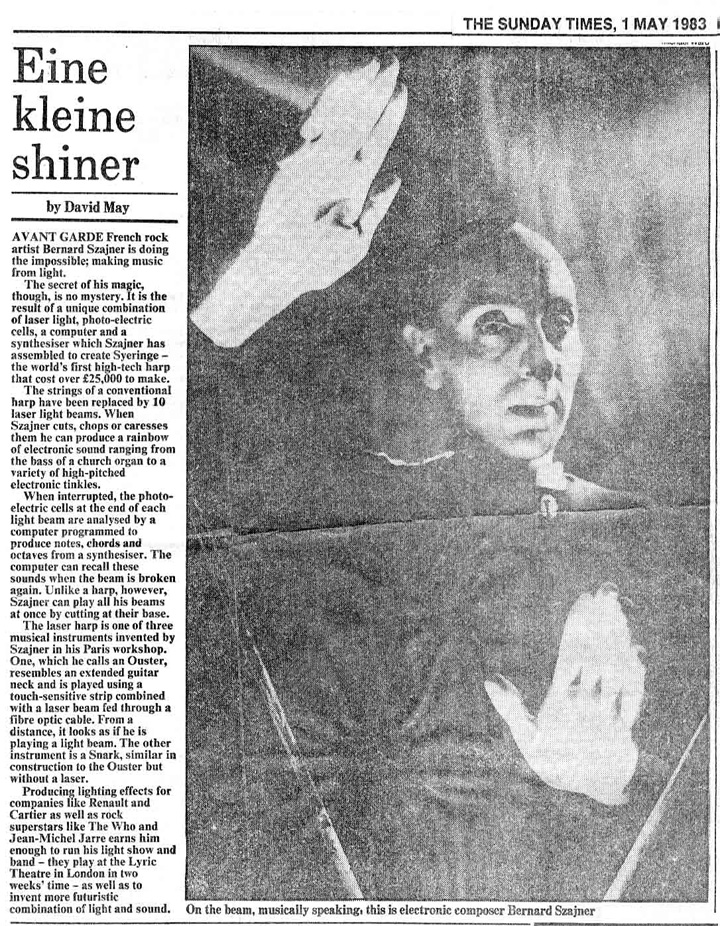 `
Un grand merci à Luc Finiti pour cette archive.
About the re-issue of Superficial Music in 2009 by LTM recordings
'Reworking recordings originally made for an earlier project by slowing them down or running them backwards through harmonizers and other electronic effects, Szajner creates a series of translucent pieces, stripped of the instrumental sparkle to be found of his collaborations with Blasquiz and Paganotti. The two albums feel very different from each other, but are closely related through the composer's preoccupation with the inhumanity of mechanised death. Accompanied by extensive sleevenotes and useful bonus tracks, both suggest that there is still much to learn about the music made in the 1980s' (The Wire, 06/2009); 'It shows the tape experiment to be a significant success, a wholly involving and frequently disturbing blanket of continually contorting synthetic sound. Yet despite its uncompromising atonality, it's music that is easily accessible, communicating its intensely anxious messages with outspoken candour and remarkable intelligence' (Melody Maker, 1981); 'Superficial? No, superlative music! If you care at all for soundscapes that eschew cheap escapes, that demand clear perception without preconception, this album will do far more than tickle the surface of you mind… This new release marks a penetrating, persuasive look into the possibilities of pure tape music. This is music of almost overwhelming purity, whether played at discreetly ambient or totally engulfing levels. Reworking old material, it's almost Accidental Music. Except for the fact that there's a remarkably perceptive intelligence at work here. The tapes play backwards; logic is effortlessly reversed. Half speed gives extraordinary depth to the bass. Spare but telling use of the digital harmoniser and other studio treatments spin a sensitive skin of transparent texture over the naked harmony. Particularly on the second side, the impression is of a sizeable orchestra playing just beyond sight, a stately, spacious, but somehow eerie sound… It's hard to believe, in the fashion-enhanced, category-entrenched 80s, but you won't find many obvious influences here. If that sounds like critical shortchanging, I could suggest that Superficial Music occupies intellectual territory somewhere between Pierre Henri and Messiaen. Similarly in his rock mode he thrusts forward the standard so disappointingly dropped by Christian Vander. Irreconcilable? Not for Szajner' (NME, 1981); 'Szajner is a significant and influential figure in the composition and performance of electronic music. On Superficial Music, the intriguing results sound harmonious, anxious, consistently stunning and emotionally involving. An excellent reissue, and I expect Szajner will be belatedly name-checked by younger admirers as his work is rediscovered' (Brainwashed, 04/2009)
About the re-issue of Some Deaths take forever by LTM recordings
'Some Deaths Take Forever is a series sharp refractions and angled reflections. Szajner's uninflected sequencers are counterpointed throughout by Magma's Klaus Blasquiz and Bernard Paganotti, bringing a Kobaian disco precision to Ritual and Execute. Dedicated to Amnesty International, Some Deaths Take Forever is a tortured meditation on the electric chair as killing machine' (The Wire, 06/2009); 'Szajner's music is anachronistic in the best possible way. His sound is the equivalent of steampunk in science fiction; where steampunk imagined a 19th century that was already computerized, Szajner's music is an early 1980s 'rock' that already seems to incorporate elements of house, techno and electro. It's as if he unravelled the standard sequences of 1970s-into-80s pop history even before they had properly been established. The world evoked by Szajner's synthesizers is dirty, brutal and broken. It's psychedelic, but in the urban, paranoid schizophrenic way that Cabaret Voltaire were. There is also a kind of serrated beaty here, too, particularly on some of the bonus tracks that didn't appear on the original vinyl LP' (Frieze, 10/2009); 'This 1980 album is a surreal amalgam of maniacal electro-pop (check out the Serge Gainsbourg-remixed-by-a-Speak'n'Spell vibes of Welcome To Death Row) and peculiar abstract sound sculpting, hitting on an especially odd sound with the Manuel Gottsching-esque guitar-led synth bashing of Ressurector. Bonus tracks are thrown in for good measure, with the impressive Thol Onasia and parting shot S-N-O-W-P-R-I-N-T-S standing out for all their ambient loveliness' (Boomkat, 05/2009); 'A modern electronic masterwork – one of the most exciting and innovative pieces of electronic music to be released this year' (Melody Maker, 1980); 'His frantic, outraged music shames the bulk of oscillator nuts peddling their dodgy little repetitions around' (Sounds, 1980); 'Unquestionably one of the decade's most accomplished fusions of sophisticated electronics and driving rock' (NME, 1980); 'Whether working in sound or vision (he sees the two « forces » creating a « third force that is stronger than any one of the two »), Szajner's genius is in making the act of storytelling as relevant as the story itself. The reissues both present journeys. Some Deaths Take Forever's layers of synths and distortion eventually reach a celestial, radio-frequency climax' (San Francisco Bay Guardian, 10/2009)
About of Some Deaths take forever on Aquarius Records
Conceived as a soundtrack for a 1980 Amnesty International short film against the Death Penalty, French electronic music maverick, Bernard Szajner (pronounced Shy-nerr) came up with one of the most geniusly bizarre concept records ever made. Imagine if Suicide, David Bowie, Conrad Schnitzler, Bruce Haack, Giorgio Moroder, and Magma made a record together about the de-humanizing extremes of an existentialist Death Row, it might sound something as cold and freaky as this! A minimal wave Magma is definitely not that far off the mark, as Szajner was the lighting and visual effects designer for Magma's live shows in the seventies, and Klaus Blasquiz and Bernard Paganotti of Magma guest here.
The opening track, « Welcome To Death Row » was featured on the awesome compilation of French coldwave, « So Young But So Cold » and Detroit techno producer, Carl Craig has claimed this to be his favorite album of all time! It's definitely got the slow disco vibe down, even though it's hardly a dance record. Add some crooning David Bowie in his Low period moments, but it's way weirder with creepy synth elements, robotic vocals, radio collages, electronic pop and tight, proggy guitar solos added in to highlight a more distasteful side to what Szajner felt to be the all too pleasant quality of synthesized sounds coming out of Germany at the time. That might mean for some, on a first superficial listen, parts of the songs may go to questionable places you may not wish them to go (it was made in 1980, after all!), but it's a much more satisfying listen to follow the songs down all the rabbit holes they go with an open mind. It's definitely one of those eccentric missing link records that crosses through many genres but doesn't sit easily in any one of them.
Bernard Szajner made five records of avant-garde electronic music in the late seventies and early eighties before sadly abandoning music for good, but none of them are quite like this! (His 1981 follow-up Superficial Music has also been reissued and we'll hopefully review it in a future list.) But for all those into such sundry bands as Daft Punk, Droids, Cold Cave, Air, Kraftwerk, Heldon, Arthur Russell, Lindstrom, Gina X, Jonas Reinhardt, the weirder sides of Serge Gainsbourg or any of the bands or artists mentioned above, you need to check this out now!! Oh, and this new, nicer reissue (than the previous one on Spalax) also includes three bonus tracks, previously unreleased!